First off, kudos to Skip*Hop and Scott Henderson: the awesome Splash Bottle Rack won a Bronze in the Home Living category of the 2008 Industrial Designers Society of America's IDEA Awards.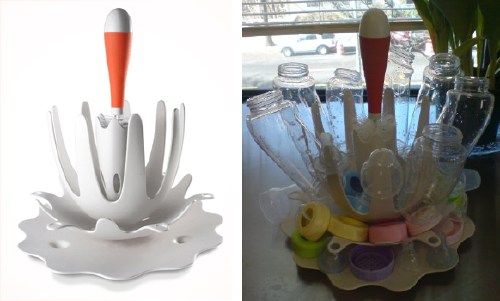 Besides being extremely practical, I love the way the Splash's obviously beautiful design gets totally obliterated in real life. What looks like a pristine sculpture at the baby shower turns out to be a jumbled explosion of bottles and nipples and doodads on the counter. In this duality, the Splash might be the perfect metaphor for modern designed parenthood.
Not that you'd hear anything like that from IDSA, of course. They praised the Splash for not being "another blocky, colorful item that would look more at home in the playroom," which makes no sense for the product and what it's supposed to do.
Maybe the IDEA awards folks just don't know how to consider kid-related design. 2008 is the first time in at least four years that any baby or children's products are even included. But one of the other winners, the Wiegen Stroller concept designed by Dan Clements at Worrell, makes me wonder if anyone at the ISDA has left the house or had a date, much less conceived a child, in the last 90 years.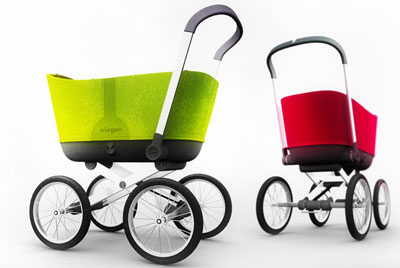 Though the designer and a dozen other people sent along the link, I didn't unload on the Wiegen Stroller when it debuted on the breathless design blog circuit last summer. I like a slick rendering as much as the next guy, but the Wiegen didn't seem to actually break any new ground, or even to do the basic job it's designed for very well. There's no storage; the wheels don't turn--it's not even technically a stroller, but a pram--the fold only make the thing slightly lower, not actually smaller. All they really seemed to be doing was remaking an antique design in Bugaboo materials. Big whoop.
And yet, to hear Worrell and Clements talk about it, you'd think they invented human reproduction itself. The promo video was the worst, but this single sentence from Worrell's portfolio gets the point across:
The Wiegen is a wake-up call to a dated marketplace of lackluster competitors churning out products that fail to meet the needs of today's parents.

How can any design professional write that sentence with a straight face in 2007? Would that claim pass muster with anyone who even a passing familiarity with the stroller design landscape of the last ten years? Honestly, are clueless arrogance and instantly debunkable hyperbole really selling points for an industrial design firm?

The reality, I suspect, is that someone at the Minneapolis firm found an old stroller in his grandparents' garage and decided to make a CG rendering of it. Literally. One of the more well-informed tips about the Wiegen last summer came from the curator of the Pram Museum, who pointed out its similarity to the , a canvas & steel folding stroller that was very popular in the 1920's onward, especially in the town where it was built: Minneapolis.

Just as the image-vs-reality of the Splash speaks to the paradox of modern parenting, the forgotten innovations of the Trav-L-Eez could embody the self-serving delusion of the children's design industry, where a lack of continuity or historical awareness causes people to endlessly "invent" the same damn thing every five or ten years. Not that anyone's ever heard of him, but the inventor of the Trav-L-Eez, one Julius Anthony Mahr, is practically the Thomas Edison of the baby stroller.

From as early as 1919 and into the 1940's, J.A. Mahr received dozens of patents for things like the folding stroller. That combines with a bassinet. That's suspended like a hammock. That straps into the back seat of a car. His 1940 patent for a flip-open seat and footwell will be instantly familiar to anyone who's ridden in the third row of a station wagon built in the last 40 years.

I dug up all this Mahr stuff last year and never did anything with it. When it was just one random design concept wafting across the baby blogosphere, it was easy to ignore, so I did. But now the ISDA and BusinessWeek have given this unremarkable and derivative design a freakin' award. When they come from a single, pompous designer, indifference to obvious functional and performance shortcomings and a complete disregard for historical context and precedent are annoying. When it's demonstrated by the design industry's professional organization, it's total bullshit.

ISDA/BusinessWeek 2008 Industrial Design Excellence Awards winners [businessweek]