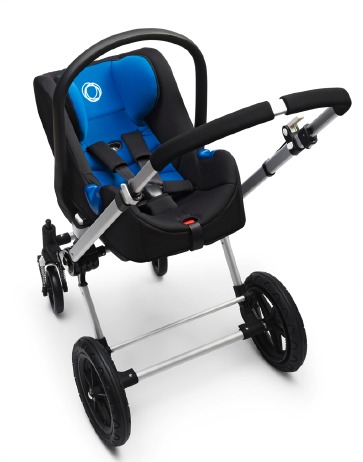 "Wow, so many diesels!"
"I prefer a $1=1EUR exchange rate, please."
"Does it come in gold lame?"
OK, so you'll only need that last one if you're Gwen Stefani. But otherwise, if you're paying $9/gallon for gas, showering with a vegetable spritzer, and blowing a dollar every time your iPhone makes a peep, congratulations! You're in Europe! Or as I like to call it, Bugaboo by Takata Car Seat Land! Go have a street crepe and celebrate on the way to your favorite local bebe store.
Function- and detail-wise, I think there's not much new compared to what we saw last fall when the Japanese-designed, Bugaboo-tailored rigs debuted at thr Kind+Jugend trade show in Cologne: there's a matchy, tight, removable sun canopy; a three-position handle [45-degrees is for driving]; no ISOFIX/LATCH, but all the blue pieces show you where the shoulder belt goes; small rear storage compartment on the back; side impact-tested; and group 0+ capacity comparable to the Maxi-Cosi CabrioFix [up to 13kg].
Which is the Bugaboo's obvious competitive target. In terms of finish and useful features, the Bug stands out vs the CabrioFix with its vented seatback and breathable, Japanese-quality fabric and cushions; and the one-hand strap height adjuster. Changing the strap heights on the Cabrio is a one-to-three-time ordeal, but watching the car seat you spent $300 on start to fade, stain, and pill within weeks, that's every day. [That said, Bugaboo's canopy still can't beat the tuckaway awesomeness of the CabrioFix's nylon shade. At least on tucking away. The Bug's canopy actually stops rain, unlike the Cabrio's. As K2's several surprise soakings can attest.]
All this can be yours for just [sic] EUR189, roughly comparable to--and slightly more than--the Maxi-Cosi. Adapters for the Cameleon/Bee are another EUR40. Figure that the VAT refund and international shipping are roughly a wash, and you're looking at around $US 350, or about two tanks of gas.
Select an EU country on Bugaboo's site for car seat info [bugaboo.com]
Buy the Bugaboo Takata car seat, et al at Babytrader.eu, EUR189 [babytrader.eu]
Previously: Ausgezeichnet! The Bugaboo Car Seat??