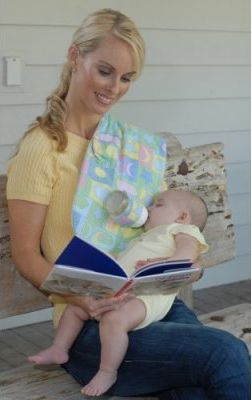 Through some unexplained miracle of strap technology, the ingenious Baby Butler enables you to free up a hand while you're giving the kid a bottle.
With that free hand, you can do anything you like, say, read a children's book just for your own pleasure, or model the beautiful fabric with elegant, Vanna White-like gestures [note: French manicure sold separately].
I haven't seen innovation this, uh, innovative since the patent expired on my Velcro Shirt.
Oops, or since the Gabriel Feeding Harness WAS SEEN ON OPRAH IN 2004. Note to all parent inventors: if you think you actually invented it, you're probably not shopping hard enough.
The Baby Butler was $22 on Amazon, but now marked down to just $19.95!
Whaddyaknow, that's the full retail price on the company's own website. [babybutler.net via dt reader jan]
Previously, 09/2004: Now You Can Breastfeed, Too