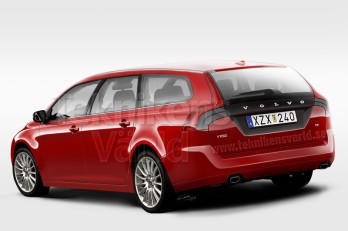 Poor VW. If only the Phaeton had a place for the bichon--and if only gas were still $1.25/gallon--they'd be a premium luxury brand now, too.
If my Google translation is to be believed, the brain trust at Volvo feels that the thing holding their brand down, and keeping it from being considered alongside the likes of Mercedes, BMW, and Audi, is the absence of a large, powerful, premium flagship. minivan.
Teknikens Varld reports that a big, three-row, wagon/crossover/minivan/whatever dubbed the V100 is being readied for 2010 or 2011. It'll have a range of engine options, including a 4.4-liter V8. Says TV, "Today reigns Mercedes R-class alone in this class, no sales, but possibly the Mercedes ahead of its time."
Yeah, possibly.
Volvo V100 – nya storlastaren från Hisingen [teknikensvarld.se, via ttac, thanks dt reader jj daddy-o]