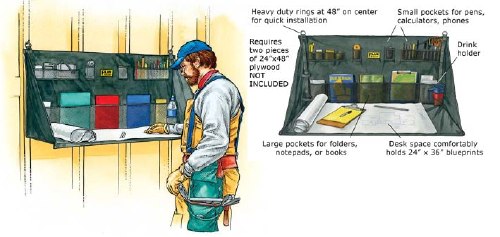 Damn, surfing around Duluth Trading's website, makes me want a job-site.
They sell this awesome, portable plan station as a time-saving alternative to building your own temporary table: "Simply pound 2 nails into the wall, and slip 2, 24" x 48" scraps of plywood into the fabric panels of the Plan Station™ – you've got a complete work station in less than 5 minutes!"
Do the same with some progeny-weight-tested screwhooks, and you've got yourself a sweet, fold-down nylon changing table, too!
UPDATE: WHOA, WE HAVE PHOTOS. Andy just found the Plan Station manufacturer [it's Finley, not DT, though it fits right into their manly image.]
This thing even has a cupholder. Check out a pile of close-up photos at Amazon. This thing looks truly incredible, a changing table revolution.
Plan Station: A mobile mission control for the job site, $69.50