In case you haven't found the right low five-figure chair for the kid's room yet, there are two possibilities from the upcoming design auction at Wright20 to consider: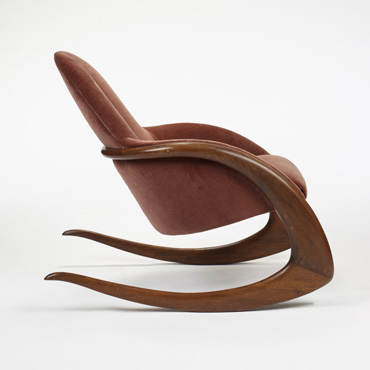 There's a pretty early example (1975) of Wendell Castle's Crescent Rocker done in walnut, that has an estimate of $20-30,000. Which sounds reasonable as long as past performance [a walnut rocker in 2001 for $17,000 and a curly maple one in 2005 for $20,400] guarantees future results. Personally, though I like the lines, the proportions on the Crescent always feel off to me, a little bottom heavy.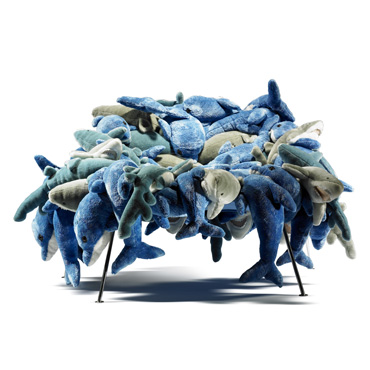 Then there's the Campana Brothers. They call it the Sharks & Dolphins Chair; I am re-christening it the Flipper Chair. This is the second example to come up at auction in a year, even though the limited edition of 35 hasn't sold out yet at retail [it's dated 2004, last year it was dated 2006]. The auction house is different, but the estimate is the same, $20-30,000. Will this year's totally transparent, unmanipulated result beat last year's $50,000 sale price, and thus help boost the value of the remainder of the series? Serious operators are standing by.
Lot 351: Wendell Castle, Crescent Rocker, walnut & upholstery, 1975, est. $20-30,000 on May 18 update: sold for 23,275, $19k bid+22.5% buyer's premium [ebay live via wright20]
Lot 205: Campana Brothers, Shark and Dolphin chair, 2004, stuffed animals & stainless steel, est. $20-30,000 update: one bid, $18,000, $22k with premium. [ebay live via wright20]
Previously: May 2007 design auction roundup
Huh. Dec. 2006, the chairs were $15k, and only $11k in 2005. No price on the Disney plush toy editions.