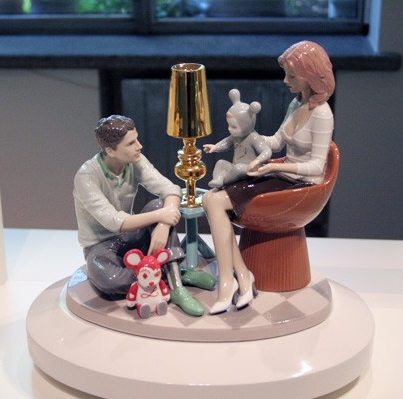 Lladro hasn't crossed my mind more than twice in the twenty years I've walked past their store on 57th street. There was one radio report after the Northridge earthquake where a lady was talking about saving all her Lladro, and I remember thinking, anyone who collects spindly porcelain dolls in an earthquake zone deserves her fate. Otherwise, my sense of Lladro is, if Sam in Sixteen Candles' grandmothers collected porcelain figurines, one would be Hummel and one would be Lladro.
So the idea that Lladro is somehow becoming hip and edgy just because they hand over some excess production capacity to a flavor-of-the-day designer just so he can amuse himself by seeing his trademark bulb-eared creatures and custom Bearbricks rendered as overly precious kitsch? I just don't buy it.
Still, if you--or your grandmother--is into that kind of thing, then Jamie Hayon is your new painted porcelain bicycle. Have fun.
"The Fantasy Collection," by Jamie Hayon, creative director of Lladro, at Milan Design Week [designboom.com]
Hmm, every single thing look familiar? Hayon Studio [hayonstudio]