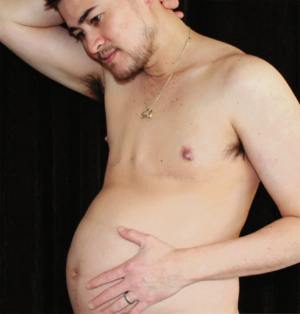 Thomas Beatie is not the first transitioned female-to-male transsexual to decide to get pregnant and have a baby. He's just the first to pose like Demi Moore on the cover of Vanity Fair and to go public about his family's experience. [Beatie is legally male, married to a woman who underwent a hysterectomy; he suspended his testosterone treatments for several months prior to conceiving with an anonymous sample from a sperm bank. He's due in July.]
Local news reports in Oregon say Beatie runs a gay pride-oriented t-shirt printing and embroidery business named Define Normal, which he started when he was an identified lesbian in Hawaii. Which might complicate the neatness of the "just a regular dad next door, having a baby" storyline he presents in his Advocate.com article.
A quick Google search finds many firsthand accounts of FTM pregnancy, as well as research dating back to the 1970's. Most studies seem to focus on the impact on children of having FTM parents, or on FTMs who have kids before they decide or begin to transition [which is the transgender term for process of self-identifying and living as the other gender. It includes hormone treatments and surgery but not, obviously, always a hysterectomy. The extent of gender reassignment surgery a TS chooses to undergo is a sensitive and personal subject.]
Here's one thing an FTM parent named Dylan said to other another FTM considering becoming pregnant:
Question5: He currently lives and passes as male in all respects. He's had top surgery, has a great deal of facial/body hair and a very masculine physique. He would not desire to remain to off testosterone for long. The goal the couple has is to have their own child with the minimum of legality concern and they feel that one of their options is for the F2M to conceive, bear the child, and return to the testosterone therapy as soon as practically possible, as he in no way wishes to return to a feminized state at all/for long.

In my opinion he will be able to pass as male during the whole pregnancy term, people will assume he is overweight most likely. A tip would be - as he had top surgery - to pack (if he can stand the heat) on top, to level things out a bit. If he wouldn't have had top surgery breast growth would have done that.

Depending on the kind of top surgery he had, breast growth might occur, I doubt he will be able to nurse however as the milk channels will have been cut. To prevent complications I would recommend to take a drug which stops the milk production immediately after giving birth, he will have to demand this in case it will be forgotten. for pregnancy related questions I recommend the book of Kinziger.

The advantage of his situation is that he will be able to pass as the child's father immediately after birth.

I think what he is doing is a courageous but rewarding decision, my compliments.

I would expect that in future, as more ftm transition relatively young that cases like him will increase. Therefor I would caution against sterilization in young FTM, as they might regret it later.
As hinted at in Dylan's response, many people within the FTM community, such as it is, apparently/understandably associate the biological capacity for pregnancy with female identity, and FTM's who opt to become parents by getting pregnant--or who even just opt to not sterilize themselves as part of the transition process--report, as Beatie has, of discrimination, harrassment, and ostracization from just about every angle possible.

Whatever your own take on transgender parents, the one sure thing is, there are many, many more who are not out and discussing it in national magazines, and they're living lives that are probably not much different than anyone else's.
Labor of Love [advocate.com via towleroad]
Oregon's Pregnant Man Is Former Hawaii Woman [kitv.com]
Everything A Prospective FTM Parent Would Like To Know [geocities]
We got options or how about starting a family - ftm and kids: A discussion of Morgan (40), Sam(28), Clemens (22) and David (35) [geocities]
Same guy, or is Dylan like the #1 name choice in the FTM world? "The Pregnant Man - An Oxymoron?" by Dr. Sam Dylan More [gendercentre.org.au]