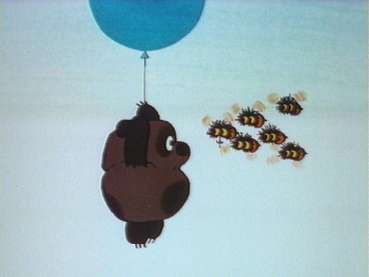 It's like Winnie the Pooh, without the rampant capitalism. Literally. In 1969-1972, Fyodor Khitruk, who is considered the pioneering figure of post-Stalinist Soviet animation, made three short films about Vinni Puh, based on the Russian translation of A.A. Milne's Winnie The Pooh.
For reasons I don't quite understand, even after several quick Wikipedia readings, animation was allowed a great deal of creative freedom and autonomy in the Soviet Union, and Khitruk's work is incredible. I love watchin Puh walk, but mostly I love seeing a different interpretation of classic stories and characters that have been largely homogenized and commodified. [Yeah, capitalism!]
According to Russian speakers, who grew up memorizing the Khitruk version, the songs and dialogue are full of hilariously witty puns and rhymes. But then I think it's just fine to watch it without understanding a word, so go figure. The kid doesn't read subtitles yet anyway.
Vinni Puh, 1969, dir. Fyodor Khitruk
gets stuck at Rabbit's house: Vinni Puh Is Going On A Visit, 1971
Hangs out with Eeyore: Vinnie Puh And The Day Of Care [youtube viaLilipip.com, which has a growing collection of interesting, short-form, downloadable content for kids]
images, there's a lot more where they came from: Vinni Puh film information and stills, and Fyodor Khitruk's other films [animator.ru]