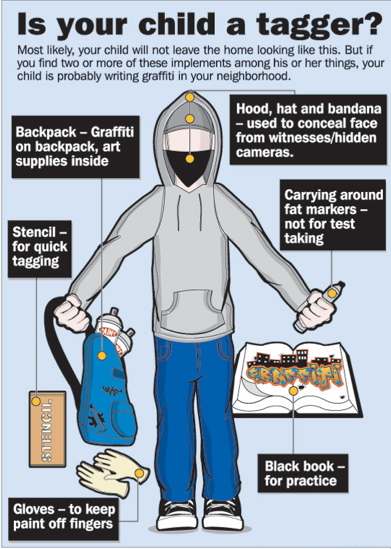 "Is Your Child A Tagger?"
Your child has large quantities of magic markers in various colors, types and sizes, spray-paint cans, shoe polish containers, or dot markers used to mark bingo cards.

...

Your child has or carries a black artist notebook that contains tagging or drawings. These books are called "bibles" or "piece books."
When DT reader Travis sent this to me this morning, I figured it was a parody from Details magazine or something. Turns out it's an official guide for parents published by the Graffiti Task Force of the Santa Ana Police Department.
Twenty five years ago, Orange County had Skateboarding Task Forces; now they have giant skateparks at the mall. Guess that means tagging galleries are about 20 years off. Some things never change. Travis is totally right, though: this'd make a righteous wall mural for a kid's room.
SAPD > Investigations > CAP > Graffiti & Tagging [santa-ana.ca.us]