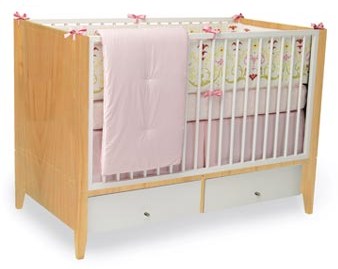 So the Dwell for Target [oops, make that DwellStudio for Target] bedding collection has been in stores for a few weeks now, and it looks fine; it has nice, Dwell-y design with get-what-you-pay-for quality. But the nursery furniture is online-only, and the first orders have been hitting porches beginning last week. [Or not, as the case may be. The mentions on Apartment Therapy's Ohdeedoh of back orders and slipped ship dates make it sound like they only launched with a tiny, test-sized inventory.]
So what's the experience of the quick-clicking folks who actually got their dressers and cribs and what not? They range from "a can of spray paint shot directly in our faces" to a crash course in the nuances of high-end-sounding marketing hype, which amounts to the same thing.
One mom-to-be, Tara, , was "so disappointed" with the spray paint-scale offgassing of the "non-toxic finish" and/or the MDF on their Silverlake changing table, they returned it. Another couple reports they were not assaulted at all by their Mercer Glider.
And one commenter points out the "solid wood construction" changing table he bought at Target [not Dwell] was a combination of pine and mdf, too.
The key is to read the fine print with some skepticism; don't expect all wood or low-VOC MDF unless they're explicitly mentioned [which I'm sure they would be]; and keep in mind that "non-toxic" and "doesn't smell like glue, varnish, or paint" are not the same thing. If you think about it, have you ever heard anyone marketing a crib with an "exclusive, toxic finish"? "Non-toxic" seems like a pretty low bar.
Any more firsthand accounts of DwellStudio for Target out there?
Good Questions: Dwell for Target, Reports from the Field [ohdeedoh]
Shop DwellStudio for Target--if you dare and/or can [target]
Previously: Dwell Studio for Target [doesn't look like the Oeuf Sparrow on their website]