My old company used to create TV identity spots and animations, so I may be a little more attuned to them than the average guy, but DAY-UM, Nickelodeon's Noggin channel has some of the greatest animations and interstitial programming of any channel I can think of. The only thing that comes close in my mind is the Golden Era ESPN SportsCenter campaign by Weiden+Kennedy. But those were live, and anyway, they were really commercials.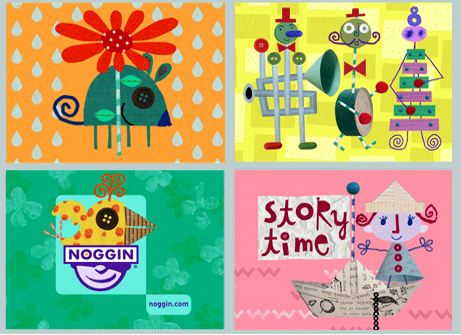 Noggin's no-commercials policy usually leaves it with up to 8 minutes to fill every half hour, which, for a 3-year-old, is practically a whole show. [That's how we counted it, anyway; and until we switched over to Nick for Yo Gabba Gabba a while back, and the kid saw her first commercial, she totally fell for it.]
And that's just how Noggin programs the time. They have recurring characters, Moose and Zee, who do little puzzles, learn a word or two of Spanish, sing little songs, do some math. There are seasonal changes, for snow, fall, Christmas, etc.
Anyway, it's meaty, fun content; it looks fantastic and very modern; it's an actual pleasure to watch; the kid and I have had a year's entertainment making up our own variations of the "[blanks] are the [something]est" song--and I had all but given up on figuring out who was responsible for creating the spots. [I first started looking when I realized that Richard McGuire did the animations for PBS Kids, so before Nov. 2006.]
Now Tina at Swiss Miss has busted this caper wide open. The answer, at least for some of the interstitial animations and identity spots, is: Brooklyn-based RISD graduate, graphic designer Melinda Beck. Awesome.
Uh, ok. Now that that's cleared up, so um...I think I need to take some time to re-evaluate my life and my priorities.
Melinda Beck portfolio [melindabeck.com via swiss miss]
UPDATE! There's something to buy! existential crisis averted! art for sale, little drawings, collages and silkscreens, $25-160 [melindabeck.com]
Previously: Don't let PBS Kids blow your mind away, baby