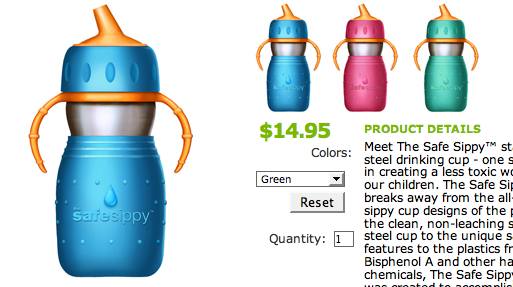 Every new baby gear company needs a Big Vision. For the Baby Boomers who founded Munchkin, the dream was to "excite and delight parents" and make their "lives easier and more enjoyable." Which meant first, a baby bottle with Dr. Pepper logo on the side [Haha! Delightful"] and after that, a Wal-Martful of plastics. Some ideas are clearly less big than others.
Contrast that with Kid Basix, which was founded with a "singleness of purpose: Making kids' live better." [sic] Their first product is The Safe Sippy, a stainless steel-and-rubber cup that's been rigorously designed and tested to be free of toxic chemicals, potentially toxic chemicals, and even slightly negative karma chemicals. UNLIKE ALL THOSE PLASTICS OUT THERE, cough cough, Munchkin executive, cough, JPMA Chairman. cough cough.
What with the Bisphenol A and phthalates hysteria and all, The Safe Sippy seems to be sold out in just about every online retailer except--for the moment--BTVCo.com, where it's $14.95. Otherwise, making your kid's life better will involve making your life miserable, as you have to schlep all over town looking for the damn thing. Also, they're actually pastel. Wouldn't a nice charcoal color make kids' lives even betterer?
The Safe Sippy, good luck finding it [thesafesippy.com via dt reader jj daddy-o]