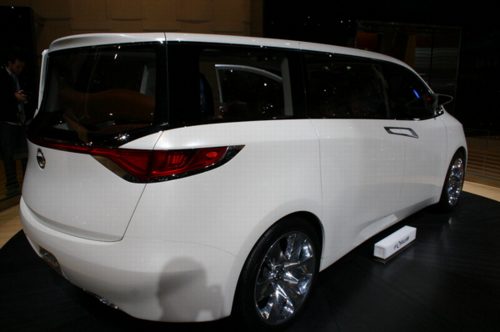 Holy Guacamole, Batman! While VW sent their engineers to Malibu to study American driving culture, Nissan sent theirs to the Woodfield Mall. The result [seen here entering the wormhole at the Detroit Auto Show] was the Nissan Forum Concept.
Jalopnik's got the photographic evidence of this stunt minivan, which actually does not look too dissimilar to the Darth Vader-ish love minivans that Nissan sells to yakuza wannabes in Japan. But get this: the Forum sports a microwave ["for heating up baby's drinks" (?! watch that)], an in-roof nanny cam, and a gigantic "Time Out" button in the center of the steering wheel that interrupts all the various rear seat audio/video sources and activates the front seat microphone for dispensing parental justice.
It looks to me like the seats don't have LATCH, though, and the Jalopnik gang has already built consensus around a changing table that folds down from the back of the third row seats. Apparently, people are tired of changing their kids diapers in the trunk. Go figure.
Check out Jalopnik's photo coverage and video tour of the Nissan Forum Concept [jalopnik]