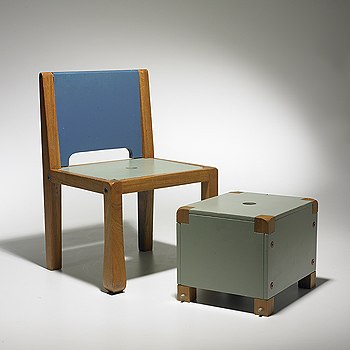 Hmm, the subtly carved chair legs in beautiful mahogany; the matching mahogany connector system on the stool corners; the seemingly interchangeable chair seat and stool top; the four bolt holes on the side that could be for attaching another unit; those otherwise inexplicable bolts sticking out of the stool legs that must be for attaching another unit.
I don't know what this Dutch child's chair and stool is, or where it's from, but it looks well and modularly made, and I like that.

Not $1200 like it, but still.
Dutch Child's Chair, $1200 at Wright Now, the for-sale section of Chicago auction house Wright20's website [wright20.com via andy]
Andy's update after the jump: another photo shows it's cool, but not so modular.