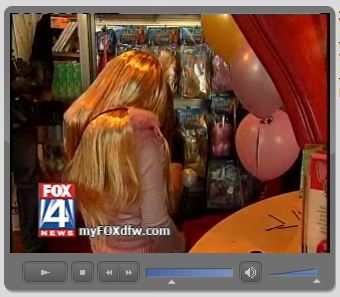 Hannah Rocks! You rock! I rock! I rock? Hmmm....
In order to win the Club Libby Lu Hannah Montana Rock Your Holidays Essay Contest and get a free trip to Albany to attend a Hannah Montana concert, a 6-year-old girl in Garland, Texas and her mom pretended the girl's father was a soldier killed by an IED in Iraq.
The four-sentence essay in its entirety:
My daddy died this year in Iraq.
I am going to give mommy the
Angel pendant that daddy put on
mommy when she was having me. I had
it in my jewelry box since that day. I love
my mommy.
When a local Fox TV reporter attending a Club Libby Lu in-store PR event pressed her for details about her baby daddy's death , Priscilla Ceballos, got all evasive and bolted. Later she called the station and admitted she and her daughter lied. "We did whatever we could do to win," she explained.
Club Libby Lu tried to slap a blonde wig on the PR disaster by taking back the tickets and re-awarding them to another, slightly less pathetic family whom they declined to identify. To recap, the grand prize is an overnight trip to Albany.
On the bright side, at this time, the kid's dad is neither in Iraq nor dead. Also, he gave a push present. Unless that was a lie, too.
Fiction?? Hannah Montana Ticket Winner Submitted Fiction Essay [myfoxdfw.com via naomi of superdumb supervillain]
Contest organizer responds
Club Libby Lu withdraws prize from essay winner