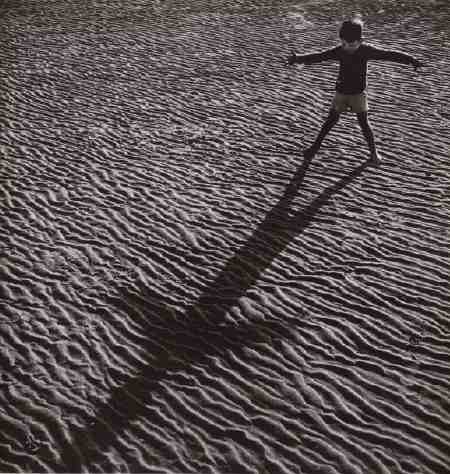 One of my ongoing complaints with the Children's Book Industrial Complex is how few titles are illustrated with photographs instead of painting or drawing. Though there are some sweet exceptions, it feels like the whole modern photography world just checked out of the kid's business for most of the 20th century.
Toni Frissell was a photographer and socialite who worked with Cecil Beaton and Edward Steichen, and who shot for Vogue before WWII [when she was a war photographer for the Women's Air Corps] and Harper's Bazaar afterward. She also illustrated two children's books after her father suggested she might try taking care of her own children [with the nannies and nurses, of course].
In 1944, Harper & Brothers published an edition of Robert Louis Stevenson's slightly sappy A Child's Garden of Verses. The image above is from "My Shadow," ["The funniest thing about him is the way he likes to grow-"]. If I read my George Plimpton correctly, the kids in the photos included Frissell's own.
In 1957, she published Toni Frissell's Mother Goose, which had this entirely different image on the cover: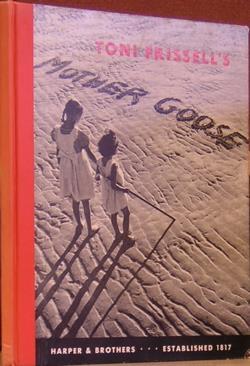 She actually much more range than that, as the 300,000-plus images in her archive at the Library of Congress demonstrates. Both of her titles are out of print, but available on Amazon and Abebooks for prices ranging from reasonable to ridiculous.
Meanwhile, on pure concept alone, my favorite might have to be another book she illustrated, The Happy Island; which consists of 1950 Kodachromes of her happy, shiny wealthy family's vacation to Bermuda. Nice work if you can get it.
image: "The funniest thing about him is the way he likes to grow-", from A Child's Garden of Verses by Robert Louis Stevenson, photo-illustrations by Toni Frissell. [beinecke.library.yale.edu]