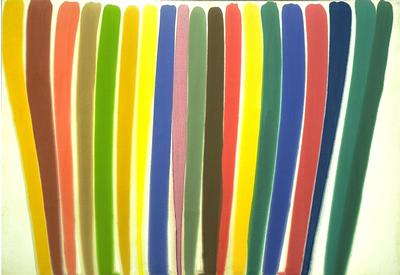 I've got a ton of things to do and write, but I can't, because I've got this really depressing incident I saw the National Gallery of Art yesterday lodged in my brain. I'm not a big believer of writing-as-catharsis, but at this point, I'll try anything.
Yesterday morning, the kid and I dropped off my wife for her doctor's appointment--we're at the every-2-weeks stage now, just nine weeks to go, uh yikes?--and headed off to our traditional post-OB-dropoff breakfast, at least during pumpkin pie season: McDonald's hotcakes & sausage.
I wanted to go to the Hirshhorn Museum, to see both the Morris Louis retrospective, and a light art exhibit that includes a spotlight-and-prism installation by our friend Olafur Eliasson. The kid's on a bit of a rainbow kick at the moment, so I asked if she'd like to go see some rainbow art, knowing full well what her answer would be.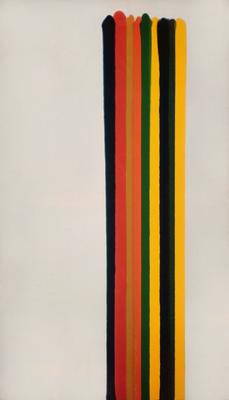 Taking the kid to see art, contemporary or otherwise, just seems like the most natural thing in the world to me. The scale, the abstraction, the diversity, it all seems perfect for engaging a little kid's attention, far more than traditional paintings-in-a-frame galleries, which are usually too high and too small for a knee-high or stroller-bound kid to even see. And kids don't have a prejudice that art has to be "about" something; visual interest, stimulation, and discovery are often plenty to make a work a success.
Louis made his giant, abstract works by pouring and channeling paint across his canvas. The kid was fascinated at the idea, and would pick out the colors and the overlaps, and she asked questions that frankly stump art historians, like how did he keep the paint from splashing, and how did he make straight lines? [Louis didn't let people watch him paint, even his wife, so the specific secrets of his techniques died with him.]
Upon seeing the Hirshhorn's own painting, Where, 1960 [top], she pronounced it her "very favoritest painting ever," an honor bestowed on only a handful of works in the last few months. Then as she entered the last room of the exhibition, which was filled with Louis's stripe paintings [Color Line, 1961 is at left], her face lit up, and she exclaimed, "Zips!"
It's the kid of mistake that warms a museum-going dad's heart. She was referring, as you know, to the vertical stripes--whether they're symbolic of man or a light source, or straightforward demarcations of space is open for discussion--Barnett Newman made by painting over masking tape, then pulling the tape off. [That's MoMA's Vir Heroicus Sublimus, 1950-51, below.]
Hunting for zips is what we do when we look at Newmans, so I said if she wanted to, we could go on a "zip trip," [we're big on rhyming these days] and find some more zips at another museum across the Mall. Much overeager jumping ensued.
[Oh yeah, the Eliasson installation elicited much jumping as well. The round, rotating prismatic donut sweeps the room with rainbows and light beams, which the kid chased and jumped over for at least 10 minutes. Then she declared that she wanted a spinning rainbow machine in her house, too, and I'm like, "You and me both, kid, but between the auction prices and the euro..." Here's a video of Round Rainbow, 2005, with voiceover from an annoying hipster math nerd.]
So off we went to the National Gallery, where Newman's 14-panel Stations of the Cross offers probably the highest concentration of zips on the planet. And so it was that, after chasing a 3-year-old, who was so excited to see the most austere Abstract Expressionism, she actually ran across the Mall, we entered the National Gallery. After a detour to blow on the Calder mobiles, we were crossing through the Rothko/Pollock/Clyfford Still room, where a docent was explaining a Still painting to a class of maybe 20 middle school kids seated on the floor: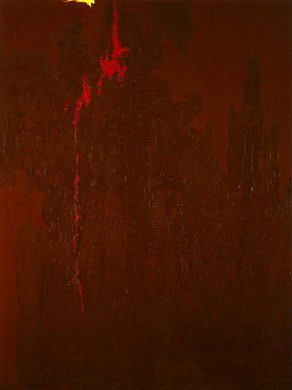 "Who wonders why this is here? Who wonders why it's even art?" She waits and waits for sheepish hands to keep rising.

"Well, there are curators--do you know what that is? art experts who study and know what art is important enough to be in a museum--curators and art historians and other experts who say this is art, and even if it doesn't look like it's about anything and it doesn't make any sense, you just have to bear with it sometimes.
And with that, the arts education professional at America's Museum could go home for the weekend, confident that she'd successfully bored another 20 impressionable young minds out of caring about abstraction, modern art, and museums that don't have Archie Bunker's chair on display.
I just stood there, stunned, and part of me wanted to interrupt this idiot and singlehandedly save these kids from certain cultural oblivion by pointing out that Still was probably the first American artist to actually make an abstract painting, art that wasn't about something, and that even so, it still bears a remarkable resemblance to the landscapes of California and the West where he grew up. And that his incredible influence on the other artists in the room, who took up abstraction after him was only now being understood. And that he actually hated the art world merry-go-round of curators and critics and "experts" so much, he all but abandoned it and moved to a farm in Maryland to paint, and only a very few of his works are even in museums, and almost 95% of the art he made has never been seen by anyone outside his own family, but they're building an entire Clyfford Still museum right now in Denver...
But the kid had finished being a snake and crawling across the bench on her belly, and now she wanted to see her zips. And anyway, I don't know how much it'd help these kids' artistic futures if they thought of museums as the place where crazy-bearded yuppies let their kids run loose while they're rambling incoherently about the desert sun. Still, I hope Museum Lady gets saddled with a desk job before she can do any more harm.
PS And now that I'm done, I can't say it feels any better, because it only makes me realize how few people probably give a damn about art in general and modern art in particular, and how many people are probably thinking, "Dude, you know what, you are a crazy yuppie snob. Lighten up and let the kid watch Spongebob for Pete's sake." Also, now the day's shot.