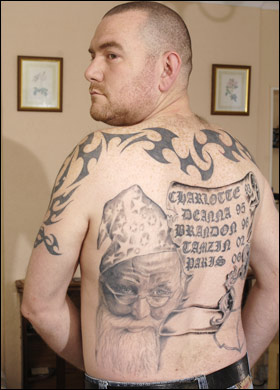 You know, I thought the clincher of the story was the UK factory worker dad who spent a year getting his full back tattoo saying, "I've always liked Dumbledore – just not in that way."
But then I see that he named one daughter Tamzin, presumably after Tamzin Outhwaite, an actress on the EastEnders, and he named the youngest one Paris. In 2006.
Dad's Tattoo Dumble-Doh! [thesun.co.uk via andy, other andy]
Previous dad tattoo coverage here and here.