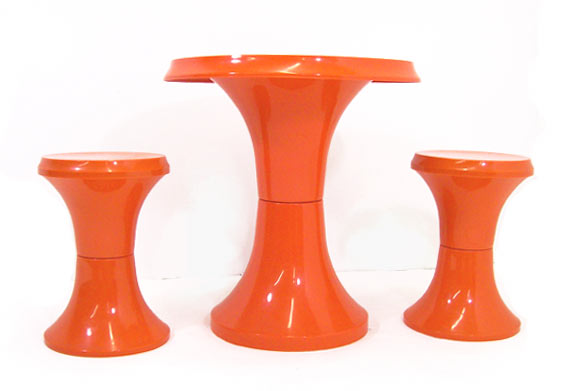 We're looking for a new sofa for DC, so I've been surfing the antique and midcentury store sites in DC. One store, Modernicus, has this kind of cool kids table and chair set from the 1970's.
Of course, they describe it as having "an ever stylish Eero Saarinen tulip shape," but it's no more a Saarinen than I am. It looks more like an injection molded plastic version of Nanna Ditzel's Trissen tables, or that Samsonite furniture from a couple of weeks ago.
But if they gave the exact manufacturer name, you might start scouring eBay for it yourself, and then you might not drop $325. It's a tossup.
update: or as Stef points out below, you might find out that it was a mass-produced French classic, the Tam Tam, by Henry Massonnet, which he has put back into production five years ago, using the same molds, and which costs $20. The table's $100.
Orange Plastic Table & Stools, (table: D23 H26, stools D12 H17), $325 [modernicus.com]