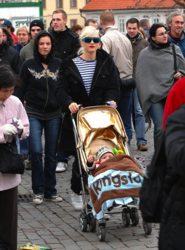 Ah, the changing of the seasons, and the quarterly amortization of publicity stunt-stroller expenses. A young Czech lad was photographed over the weekend riding in one of the ten Mamas & Papas Ziko Gold strollers rumored to exist. The name of this anonymous tyke is not known, but judging by his blanket, his parents appear to be fans of Praha Ringsto, the city's world-renowned field hockey club.
If you're keeping score at home, the answer is "Yes, in fact there IS such a thing as too much gold lame'." Ringsto's mom seems to have had the canopy de-lame-ified.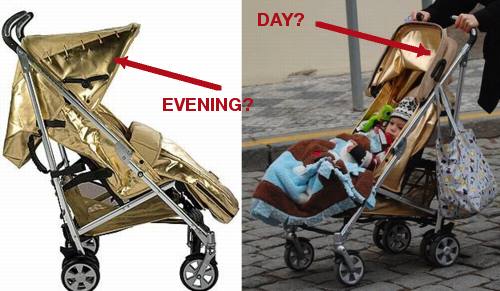 See full size images at Popsugar here and here [popsugar via dt reader jjdaddy-o]
Previously: Unidentified Local Dad Now Identified. As The Guy Pushing The Gold Lame Stroller.