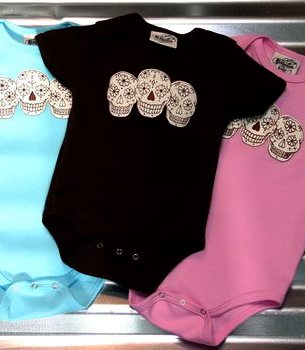 I was just going to post a happy little skull bodysuit story after seeing this in the window of the little gift shop down the street [Wake Up Little Suzie, Cleveland Park, DC], but after visiting their site, I realize the A Mano Trading Company has something much more sinister on their mind.
Yes, their new baby line, Babylon Baby, has cute little sugar skulls, cuddly Mexican wrestlers, and la Virgin de Guadelupe. But they're just to soften you up--FOR THE ROBOTS.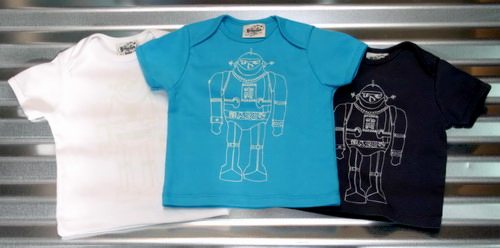 I'm telling you people, no border fence is going to be high enough to protect us. And anyway, A Mano is based in Berkeley. THEY'RE ALREADY AMONG US.
Check the Babylon Baby site for retailers, or make a trip to Cleveland Park. [amanotrading.com, thanks coolmompicks for id'ing the mfr]