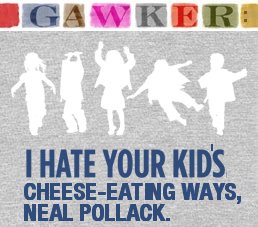 It's hard out there for a kid, yo.
When Gawker's Josh mocked Neal Pollack's cheese snobbery by calling Elijah, his little cheese snob-in-training, names, Neal was understandably pissed. I mean, what's the point of offering up an easy target for ridicule--by, say, blogging about how he teaches his kid to gorge himself on the most expensive samples at the cheese counter--if people are just gonna flame your kid?
For our part, we've avoided these kind of problems by teaching our kid to say, "It's just Brie," whenever she breaks out the Brillat-Savarin. Unless she's in France.
Intro to Turophilia [epicurious]
Elijah Pollack is going to be a horror [gawker via dt reader neal. (hey!)]
"I Hate Your Kids" t-shirt, $20, adult sizes only, obviously [shop.gawker.com]