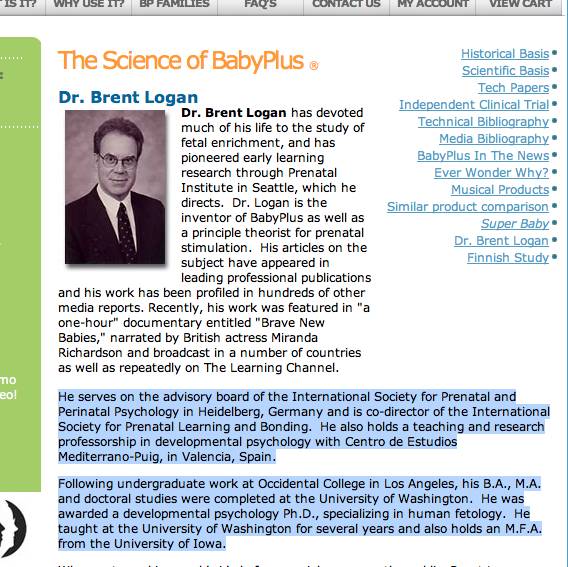 It just doesn't stop. Read the highlighted section of the biography of BabyPlus Prenatal Education System inventor Dr. Brent Logan [It's on a page called "The Science of BabyPlus - The Scientific Basis of BabyPlus"]:
He also holds a teaching and research professorship in developmental psychology with Centro de Estudios Mediterrano-Puig, in Valencia, Spain.

Following undergraduate work at Occidental College in Los Angeles, his B.A., M.A. and doctoral studies were completed at the University of Washington. He was awarded a developmental psychology Ph.D., specializing in human fetology. He taught at the University of Washington for several years and also holds an M.F.A. from the University of Iowa.
If you thought he was a visiting psych professor/researcher at a Spanish university, you would be as wrong as I was. As
I previously posted
, the few online references I can find to this "Centro de Estudios" are nine+ year-old legal notices, including a court judgment against an "adult education" company.
[update and possible correction: In the comments below, arlopop may have discovered the Centro de Estudios in Valencia where Dr. Logan's professorship is from. Since they're not mentioned anywhere on the course offerings directory, we can only hope that his dev psych classes aren't at the same time as these courses:


Instructor de aeróbic, step y técnicas aplicadas.

Monitor de musculación y fitness

Monitor de funk, hip-hop y ritmos aerolatinos

Máster en ciclo indoor
Thanks, BabyPlus! Now I know how to say "spin class instructor" in Spanish! I'm still waiting to hear back from the CdE to see if it's the right one. Stay tuned.]
So not a university researcher. But he's still got a PhD in developmental psychology from the University of Washington, right? Wrong. I just received confirmation from the Registrar at the University of Washington that Logan received both a BA and an MA in English there [his thesis was titled "Sixty Poems"], but not a PhD.
But that's what his bio says, right? Until I went to copy and paste his fraudulent claim of having a PhD from UofW, that's what I thought, too. But in fact, Logan's bio only appears to say his PhD was awarded by the school where his "doctoral studies were completed". Obviously, he completed his doctoral studies at the university mentioned on his bio, and he was awarded the PhD at another [unidentified] institution somewhere.
I haven't heard back from Dr. Logan yet on what that august, unnamed degree-granting institution is, but I half expect him to say that his resume' makes perfect sense to anyone who's used the BabyPlus system. Which is available on Amazon for just $149 for the entire 22-week program. Also, buy his book.
Previously: The first BabyPlus takedown, with Dr. Logan's first several refuted responses
BabyPlus inventor says 'I'm not a quack, also buy my book.'
BabyPlus as seen in 02138 Magazine! As a punchline.
Related: watch this April 2007 segment from KTLA news, where the organizer of Baby Celebration LA goes from talking about Tori Spelling's crib to explaining the scientifically proven benefits of BabyPlus. [via amazon]