From the silly- and hairy-as-it-sounds Village Voice photo series, "The Back Tattoos of McCarren Pool Park":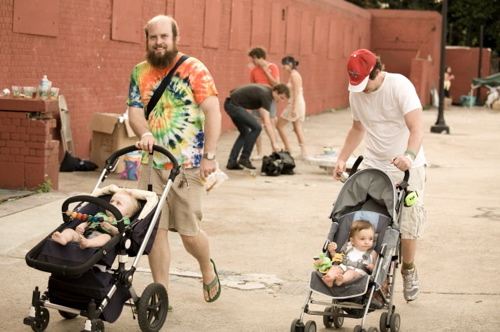 Don't know why Maclaren Guy's hiding; after all, he's the responsible one with the baby headphones. Must be the drummer, Harrison Haynes.
On a related note: the only changing pad in stock right now at the Harrington family home accessories business, Deadly Squire, is in the mustardy Blackbirds After The Harvest print, which Tim explains was inspired by Neil Young albums.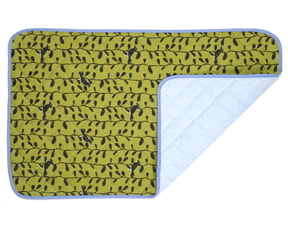 The Back Tattoos of McCarren Pool Park [villagevoice.com, image: rebecca smeyne]
quilted cotton pima changing pad, $25 [deadlysquire.com]
Hey! According to their MySpace, LSF is kicking off a tour this weekend in NYC for their new album, "Let's Stay Friends" [myspace]