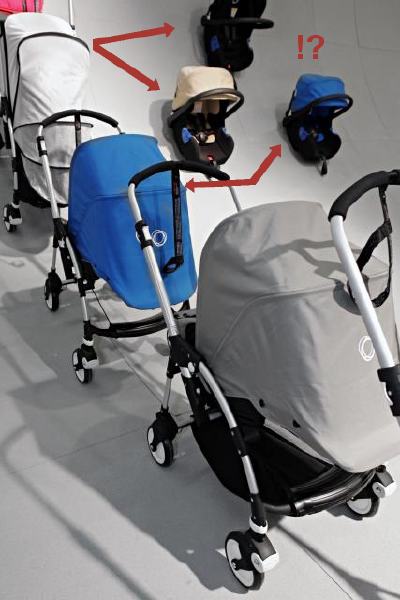 Here's a picture from the just-ended Kind+Jugend expo in Cologne that seems to show some Bugaboo Bee-matching infant carriers.
Either that, or Bugaboo and its car seat-selling expo neighbors drove around Cologne at night, stealing wood from construction sites, then built a halfpipe so big, it took up both their booths.
But wait, here they are again! And not a halfpipe in sight. Takata, the first name in Japanese car seats. Holy smokes, are those forward-facing car seats Bugaboo, too?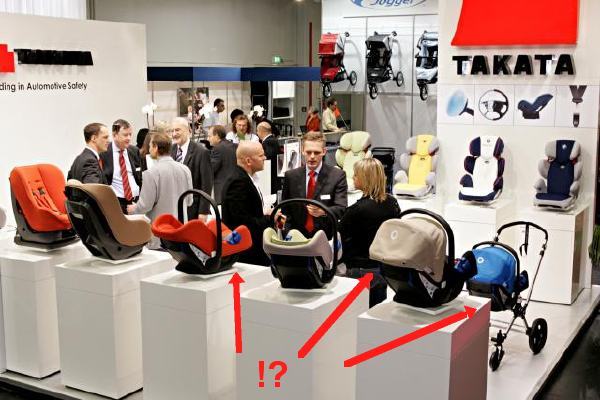 Let's take a closer look: Bugaboo-style canopy, with Bee-style buttons. So it's losable, but not hideable. I guess it's the brand. Those blue components are the shoulder belt attachment points. Hmm, there don't appear to be any ISOFIX/LATCH elements visible. Are they in that big, flat, clean storage compartment on the back? Unlikely [you'd have to drive with that thing open all the time, kind of defeats the purpose.] Maxi-Cosi's compartment on the Cabrio definitely was a nice thing to find, but it felt a bit like an afterthought. This looks more integral, the next step.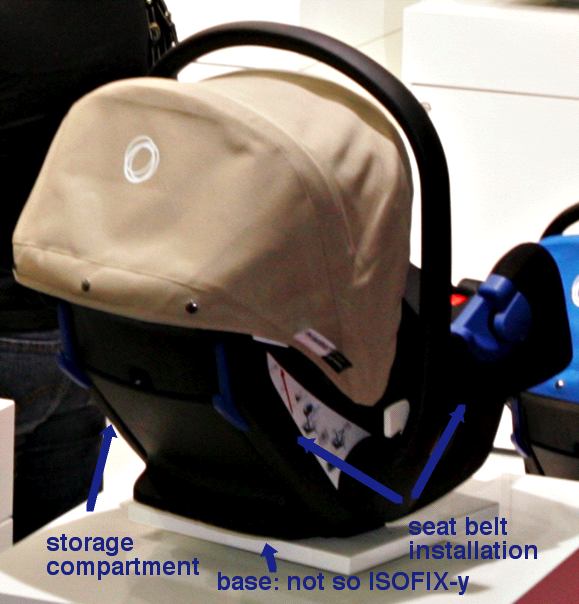 The seat fabric looks really tight, definitely Japanese-style finish, which is, on average, even nicer than EU-spec Maxi-Cosi. Don't even get me started on those Japan-only, $1000 Aprica J-Puff Marshmallow rigs with all their taut, breathing, neoprene mesh...
But hey-o, what about these big, forward-facing seats? The colors and fabrics seem to match, but there's no Bugaboo logo. And though I'd show those sweet seatbacks off all day, they don't look like they'll be riding on any Bugaboos anytime soon.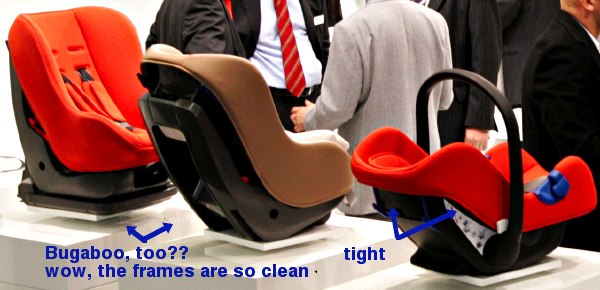 Speaking of riding on a Bugaboo, These car seats are clearly not just for the Bee. Here's one on a new Cameleon. Looks like they replaced those twisty handle height adjusters with more Bee-like buttons. Good move. If that helps the Cameleon handle stay even like the Bee's, even better. Looks like the setup still requires adapters, though.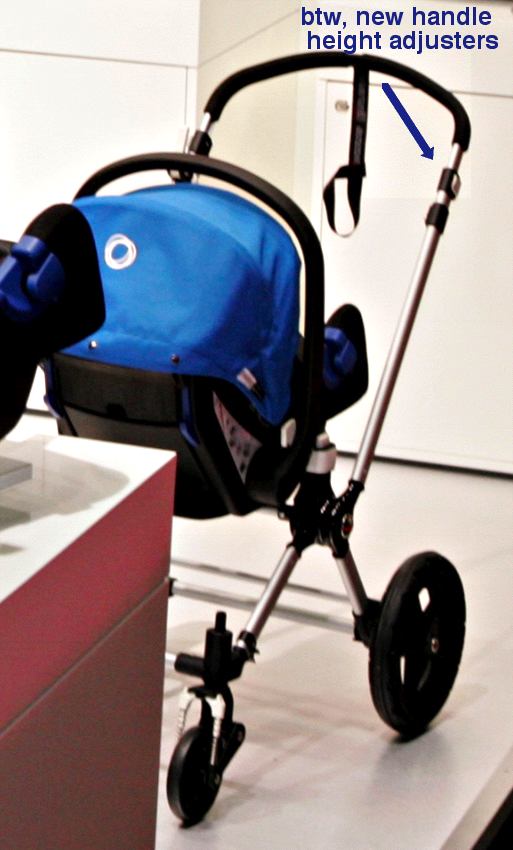 Snap judgment: looks awesome and expensive, especially because you'll have to pay euros for them. My bet is, they won't make it to the US before your kid gets his license.
[images via k-j]