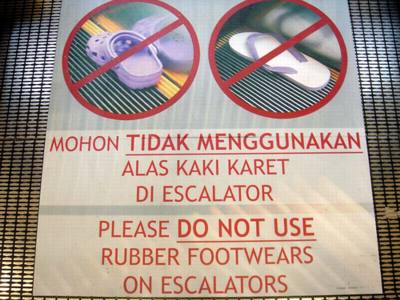 Not only are they fugly, they're dangerous, too? Crocs--and other soft-soled shoes like flip-flops, but as you'll see, the delta here is the spike in Crocs sales--are involved in an increasing number of escalator accidents. DT reader Jennifer points to a report a couple of weeks ago in the Washington Post:
"We've had an alarming increase of incidents of those types of shoes being stuck in the escalator," said Dave Lacosse, who oversees Metro's 588 escalators and 244 elevators and said the problems started last summer. "We were going from weeks with [no incidents], to one now and then, and now, especially in the summer, as high as three and four a week is common."
I would bet that if you're wearing flip-flops, you watch out for the escalator sides and teeth. With close-toed Crocs? Not so much.
Kids have lost toes and parts of toes in the US and abroad in Croc-related escalator accidents. [Check out this DT post from January about the overall risk to kids 0-5yo from escalators. It's mostly hands and feet, not strollers that are the danger.]
But what would an incipient product safety scandal be without a steady supply of locally reported injuries and toe amputations, a rescinded promise to a consumer safety group about a warning label, and a shifty comment from a corporate spokesperson?
In a statement, a spokeswoman for Crocs Inc. said its footwear was safe. Asked about the shoe tag and mall kiosks, spokeswoman Jessica Packard said the Niwot, Colo.-based company has determined "that the best way to raise awareness is to continue to endorse the Elevator Escalator Safety Foundation and its education and prevention efforts."

The company manufactures about 6 million pairs of Crocs a month, she said. "The popularity of our shoes has helped draw attention to a long-existing issue that we think is very important -- escalator safety," Packard said in the statement.
All we need now is to find out they're made with lead-tainted pigment, which would totally throw a Croc into the playground mulch idea, too.
Soft Soles Fall Fashion Victim to Escalators [washpost, thanks to dt reader CV as well]
image: "No Rubber Shoes" sign in Jakarta, via satya.w's flickr stream [flickr]
Previously: Crocs Must Stop: The DT Crocs Playground Resurfacing Project
Q: Strollers on Escalators?