Spot The Bugaboo Knockoff used to be just fun, but let's face it; Bugaboo's original, innovative design has been around for almost eight years now, and on the market for six. The company has something like 30% market share in the Netherlands. At some point, I think we can all recognize that the Bugaboo Frog has been stroller designers' defacto reference point for years now.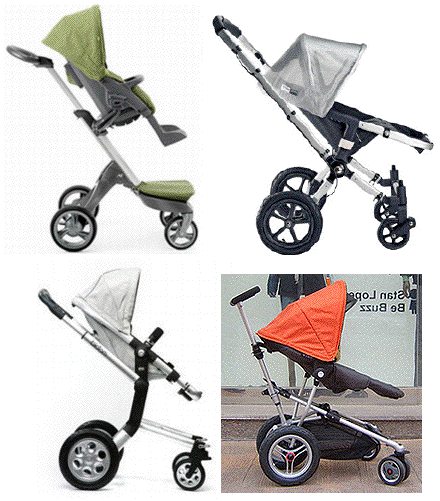 Which goes a little way to explaining how a stroller like the Joolz Bloom can come into being. It shares some design DNA with some other new, post-Bugaboo strollers just hitting the US market, the Micralite Toro, and the Bloom Soho. [Yeah, how pissed are those guys, by the way? They announced a year ahead of Joolz. Of course, the Quinny Buzz guys have to be wondering about the Bee thing, too. When is someone gonna call a stroller the Barracuda or the Deathstar or something? Come on, people.]
Joolz is a new premium brand from the Dutch company, Firstwheels, which has made the lower key Bug/Mutsy competitor City Elite stroller for a couple of years. Firstwheels rolled out Joolz last year at Kind+Jugend, the CES-meets-ComicCon of the global baby industry.
What's interesting is that the Joolz also takes cues from the Stokke Xplory's off-the-street, closer-to-dad seat position, too. Kind of makes me wonder if a Gecko and an Xplory got snowed in at some Arctic stroller testing track in Dec. '05, and they had to huddle together to conserve bodily warmth. If you know what I mean.
The Bloom's own design features are worth noting, too; the single-piece fold, solid extendable handle and height adjustable shoulder harness, all appear on the Bee. Which kind of makes me wonder just how much influence the domestic Dutch market has on the strollers these days. Is Holland to strollers what Germany is to autobahn-storming cars? It would explain the whole cupholder problem.
Joolz has a rainbow of standard fabrics, but they also offer custom-sewn seats using upholstery fabric from the UK outfit, Designers Guild, in case you need to get in touch with your inner Gwen Stefani.
Has anyone seen a Joolz in person, or do you have one, even? at EUR549+149 for the bassinet, they're in the popular upper-middle range for the EU market, which means they should have the engineering, finish, and solidity of Xplorys and Bugs. Unless it's made of freakin' Adamantium, I couldn't imagine buying an $800 rig sight unseen, even if Baby Dump would ship it.
Also, how pissed are the Bloom Baby guys right now? I mean, day-um.
Joolz Bloom [my-joolz.com via mark]
Joolz Bloom Ivy Orange, EUR529 [babydump.nl]