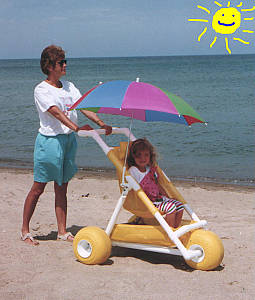 You can keep your snooty French Riviera beach strollers, eBay. Because here in US of A, when we need wheeled mobility on the beach, we have everything we need, thanks to our good, old-fashioned American ingenuity and entrepreneurial spirit.
The ATI Beach Baby Stroller by North Carolina-based Assisted Technologies, Inc. is created from "high quality Furniture Grade polyvinyl chloride resin (PVC) tubing," and it seriously rocks in a refreshingly no-fuss, no-nonsense way.
Seriously, doesn't every other stroller seem over-engineered by comparison? Rather than pursuing CAD-CAM sleekness and high-performance ad nauseam, maybe what the baby gear industry--and the stroller sector in particular--needs is a low-tech reboot. I mean, just think of the power behind Don Schoendorfer's lawn chair-and-bike-wheel design for the Free Wheelchair Mission. $44.60 that changes the world.
Bought retail, the PVC and webbing alone costs several times more than the cheap-assest umbrella strollers at Wal-Mart, so a hack-together stroller wouldn't be a solution for the entry level. But the modular possibilities have to be bigger than just the assisted mobility niche market that ATI's serving, right? Or is it really just stroller weirdos like me?
ATI Beach Baby Stroller. They also have a beautiful. matching Beach Wheelchair. price on request [ATI via marty of gearability]
Previously: Badass Wheelchairs by Lasher
update stainless steel is also acceptable. whoa, daddy, that is a fine piece of equipment.