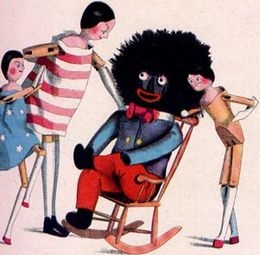 Turns out the inky black Rufty Tufty was just the tip of the golliwog iceberg [Oh wait.] Golliwoggs, as they were originally spelled, became a wildly popular staple of British kid life for most of the 20th century.
In 1895, a young English author/artist named Florence Kate Upton wrote The Adventures of Two Dutch Dolls and a Golliwogg, which starred the minstrel show doll she had played with a few years earlier during her childhood in the US. So Rufty Tufty is like a pickaninny version of Isabel Archer, the exotically naive American abroad. Or something.
Upton's book was a hit; she was able to pay for art school after all. A series was launched, but the Uptons didn't trademark the Golliwogg, and Golliwog and Gollie copies flourished for decades. After teddy bears, a gollie was the bedtime companion of choice for generations of British kids. White kids, that is. The biggest producer of Gollies was Steiff; the company even produced golliwogs are recently as 1995, the 100th anniversary of the character's introduction. [DT reader Adam even spotted a gollie sitting on that sweet cardboard kid's furniture that was featured here a couple of weeks ago.]
In 1910, Golly became a mascot for Robertson's jam, and millions of Golly pins--the Cracker Jack prizes of the British Commonwealth--were collected, traded, and hoarded by jam-addled Brits everywhere. [They still are. This snap is just a fraction of the collection at gollycorner.co.uk.] Robertson's only retired Golly in 2001.
Taken out of their original, slave/segregation American context, the racism of golliwogs seems more British imperial/colonial; it's more complicated, perhaps, but not necessarily any less offensive. And Craigie's Nicky and Nigger titles and other golliwog books by Enid Blyton, for example, exhibit plenty of obvious racism which seems even more offensive for turning up in a cutesy kid's book.
And yet the marmalade-n-pin thing has to have created a lot of non-racially tinged associations of childhood nostalgia, too. This seems like a more likely context for the emergence of Malfi, the Friends With You doll which, from seeing the shape and all the non-black versions together, I first read as penguins, not minstrels.
I'm sure the wholesome, innocent nostalgia rationale is in full gear when companies make Gollies in dozens of variations today, too, but I have to say, that feels much more problematic. [What's up with this one, for example? It has white hands. Does that mean it's actually a white doll in blackface?]
I got a lot of insight from the Golliwog article at The Jim Crow Museum of Racist Memorabilia [ferris.edu]
Handmade Golly rag dolls by Kate Finn, $AU30-80 [katefinn.com.au]