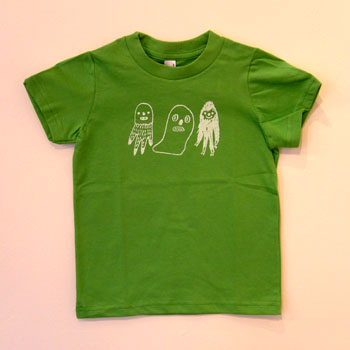 It feels like I just woke up from the cuteness coma brought on by the last objects that showed up around here from Sarah Neuburger's The Small Object . Now her adorable is not only back, it's spreading.
The modcraft-centric Art Star Gallery in Philadelphia has a series of exclusive, limited production, baby and toddler t-shirts, hand-screened with Neuburger's designs.
Tops in my book would be this one, 3 Monsters, which really doesn't need much more explanation.
3 Monsters t-shirt, by The Small Object, $24 at Art Star [artstarphilly.com via dt reader naomi]
Previously: VV Cute Thumbprint ABC Poster [sic]