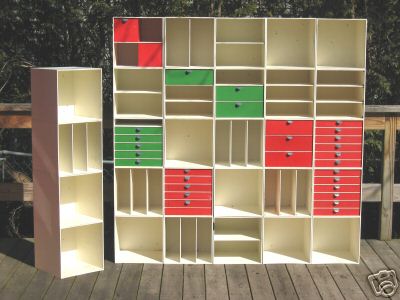 So I'm surfing through eBay a bit and hey-o! here's a huge set of Palaset storage cubes for sale. This system was designed in the early 70's by Ristomatti Ratia, whose parents founded Marimekko. Victor Papanek and James Hennessey gave over six full pages to it in their awesome lifestyle handbook sequel, Nomadic Furniture 2. [In Vic's opinion it is by far the most versatile range of storage units ever invented. While somewhat expensive, the system has many unusual advantages for nomadic living..." [heh]
This set is unusually large: 29 cubes, which can be rearranged in any configuration. The only options not included--you could order any combo of drawer/shelf/cupboards--are cupboard doors and the little footer bases which float the boxes off the floor a bit.
Each structural polystyrene cube is 13.5-inches on each side, and was originally finished in matte paint [this set appears to have the original finish.] As Hennessey would say, these come in "a zippy red" and "a rather regrettable green." Personally, I don't mind it; it looks very 1972.
No idea what something like this goes for [update: actually, one cube with 4 drawers went for 25 pounds shipped in the UK. Turns out they were sold at Conran's Habitat at least into the 1980's.] but this set's at $910 with about two days left to bid.
danish modern wall unit, kartell plastic, palaset, currently $910+greyhound shipping, auction ends Apr 10 [ebay]
Previously: Nomadic Furniture 2: DIY Kidgear Boogaloo