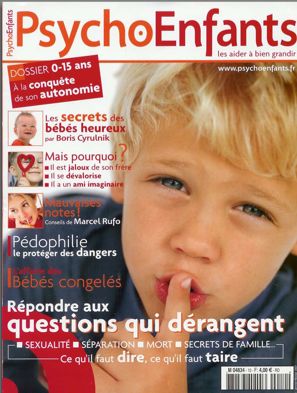 Bwahaha, there's a French baby magazine called PsychoEnfants.
I wish they had logo merchandise. Unfortunately, their website is really skimpy [the first third of the "breast or bottle?" article is just reciting a bunch of hypotheticals and myths, while the only remotely scientific information is a reference to a study that newborn babies turn their heads more toward the smell of breastmilk than to formula. Persuaded yet?]
So if anyone out there wants to crank out some PsychoEnfants t-shirt designs, I'm all for it.
PsychoEnfants.fr [via bloombaby]
Previously: Hm la plus ca change; I also wanted logo gear from the German catalogue called Baby Butt