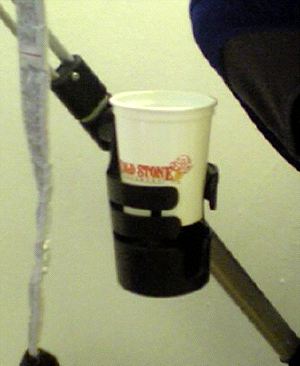 *
The end of your, long, parched agony is in sight. I just got the first word from a retailer that they have received actual, official Bugaboo drink holders. So hit up Jon at Pacifier in Minneapolis if you're in immediate need. [They're $25 and come with two adapters to fit all Bugaboo models.]
These things have been a long time coming; the cupholder was unveiled last summer at ABC Kids Expo, but then I heard from various folks that they had to return their first shipments because they only contained one Gecko/Frog adapter. [It's well known that Cameleon owners drink 2-3x as much as other Bug owners, so it was an important demographic to hit.]
As luck--and Bugaboo generosity--would have it, I got one of the early, one-adapter batch. When the bracket didn't stay on the upper, adjustable part of the handle, I just put it down on the solid part, and it fits fine.
One of my biggest gripes about cupholders on the Bugaboo is that they ruin the line of the stroller. [Actually, my biggest complaint was that most look like plastic pieces of trash from the bin at a shop class.] The Bug cupholder is about as goodlooking as ABS is going to get, and it's been a convenient success in the two+ months we've had it.
Driving with it out, it felt really prominent and wide, so I flipped it so that it rides inside the handle. I think this looks much better, and much less obtrusive. It's less likely to get knocked or pulled off, too. The downside of the inside is that it blocks the recline if the seat's facing forward; if you want to recline, you have to take the cupholder off. Same if you want to flip the handle and put the big wheels in front, like we've done a couple of times in the snow recently.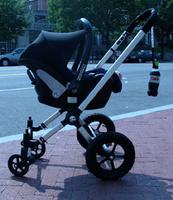 Net net, is it worth the wait [or worth getting?] For me, honestly, 90% of the time, I drink Diet Coke in a 20-oz. bottle*, which I've gotten used to hanging from the wrist strap. If your beverage consumption patterns differ from that at all--or if you actually use the wrist strap on your wrist--a cupholder will be your faithful friend.
And there's no reason you should stick inferior, non-brand equipment on the rig you shelled out for. So unless you're gonna hack one of those chrome ring chopper jobs on there, this is the only cupholder for you.
Bugaboo Drink Holder, $25 [pacifieronline.com, at least]
* note: I guess the other 10% is Jamba Juice or Coldstone Creamery, shown here riding high for illustrative purposes only. It fits all the way down, no problem.