There are a couple of solutions for making electrical outlets safer for mobile kids. Especially when bite-sized outlet covers can be nearly as hazardous as the sockets themselves.
In DC, the real electrical outlet threat is in the living room, but we instituted a "don't go in that corner, don't go near the wires" rule early on, and we just rely on vigilance and the fact that we usually sit obstructing the two most accessible outlets anyway.
In New York, though, we went with the standard, buy-em-by-the-dozen plastic outlet covers. My mother-in-law has similar, clear plastic ones with little contoured flanges to make them [slightly] easier to get out.
What I've found is that the choke hazard doesn't come from the kid prying those suckers out; it's from the parents. The covers are so hard to get out, I found I've been prone to leave them out for a while, lying around. So in order not to have the kid choke on them, covers need to be:
A) more convenient for adults to take out--and put back in,
B) less choke-hazardous, maybe by being bigger.
C) non-removable, like the way gas caps have little chains.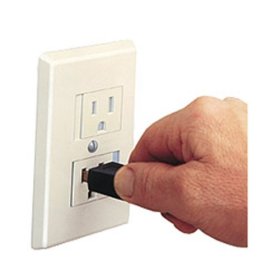 The Safe-Plate outlet cover is like option C. It stays covered until you plug something in, then you have to slide open the prong cover. [They have outlets like this all over Europe, btw.] They're $6/cover, $4 if you shop around or don't mind beige, but they're probably not necessary for every plug in the house. [AT's The Nursery pointed to a good thread about outlet covers at House In Progress.]
SafetyCaps, meanwhile, are for option B. They were developed by a dad, George deCell, whose own daughter choked on a standard, smaller outlet cover. SafetyCaps are a full inch wider than other covers, but they're just as cheap: $3 for a pack of 20.
I can't help but feel like the Safe-Plate's overdoing it a bit, but the shameful reality is, it's probably the best the kid's gonna get to protect her from a forgetful slack-ass like me.
Buy white Safe-Plate outlet covers, $5.99/each [right start/amazon]
Buy SafetyCaps online, $2.97/20-pk [safetycaps.com]