How does awesome work from less than ten years ago disappear from the parenting culture? Granted, ten years is like five toddler generations ago, and I'll be the first to admit my baby trend radar was completely non-existent until just before the kid was born. But still, you'd think the Baby Industrial Complex would be slightly better at remembering things, if only so they could trot them out as classics for the next round of parents.
A flash of curiosity led to my discovery of the multivaried creations of artist Richard McGuire: the animated identity for PBS Kids and years of illustrations and covers for the New Yorker and NY Times, I knew. The original bassline that got sampled into Grandmaster Flash's "White Lines" [!] and the four incredible, fun and beautifully produced--but inexplicably out-of-print--children's books, I didn't.

When I saw several mentions of McGuire's toy designs in articles and bios, I couldn't resist digging further, so I emailed McGuire, who's currently working on an animated film, Fear(s) of the Dark, set for completion in 2007. Here's our exchange [Many thanks to Richard for taking time to answer some questions during the holidays and a crazy-sounding production schedule]:
DT: I couldn't find a comprehensive list of the toys you've designed. What have you created so far?
RMcG: I've designed four toys: Puzzlehead, Go Fish cards, EO the Solar toy, and the little doll from What Goes Around Comes Around, none of which are available.
How did they come about?
[The first one,] Puzzlehead started as a phone doodle made on graph paper and then I made a prototype. I had the good fortune of meeting Steven Guarnaccia (now the head of Parsons illustration program). He was putting together a book project of 'artists who make toys'. We traded work.
A toy designer named Byron Glaser saw the prototype at Steven's studio and called me up. Within a few months I was in Indonesia working with a team who were manufacturing my product. Byron and his partner Sandra Higashi had altready created Zolo, a hand made wooden construction toy that was distributed by MoMA. in the late 80's. They were looking for other products to keep the team working they had put together.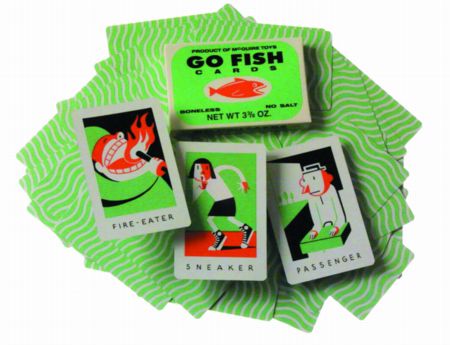 I think I read in the NYT that the Go Fish cards sort of invented themselves, as drawings and characters led one to the other. Is that typical of your design process?
Wow, you found that article too! I'm impressed. The wooden puzzle was not the easiest thing to manufacture. I was hoping to try something easier.
I had grown up playing 'Go Fish' as a kid. So I had this idea of creating a deck of cards, and packaging it as though it was a can of sardines. Each card had a 'name', an occupation or an attribute that ended in "er". That was just a self-imposed device to prod me to come up with characters. It's always helpful to me to create some kind of system to work in.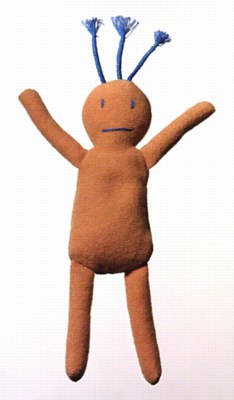 Are there characters that you envision or imagine as toys, or do the toys come independently?
Each thing came about differently. The doll came from the book as an obvious after thought.
The solar toy came out of playing around in the studio. I made one for myself and everyone who saw it wanted one so I tried to manufacture that. I ran into the most problems with that product. There were too many parts to deal with and assembling costs. I learned the most from that product.
Another of your bios specifically mentions puzzle design. What were those, and how did those happen?
I suppose it was in reference to the Puzzlehead. There was a thing I created for the 'Little Lit' book, that was puzzle-like called "Can You Find?"
In recent years, there has been something of an explosion of independent artist toys, both plush and vinyl, much of it driven by people within the anime and graphic art fields. What's your take on these, and do you see them in some way related to your own toy/object-related pursuits? [Most of them are actually for adults/collectors, not for-play-by-kids].
I've been amazed by the boom of this aspect of the toy market, although I can't say I'm all that interested . This adult/collector market has the whiff of geeky-ness. But I've always like the idea of artist 'multiples'.
A lot of what we do on Daddy Types is to provide info to dads/parents to help ID and find cool, out-of-the-ordinary, and fun gear for them and their kids, getting away from the typical plastic/branded/conglomerate mass market stuff. Where did your toys and puzzles go, retail-wise, and where should people be looking for them now?
They are impossible to find now, the editions were small. I sold them mostly through museum stores. [ed note: in other words, eBay.]
I know you've designed baby gear, too, for Land of Nod [any others?] Have you ever designed clothing, either for kids/babies or adults?
I was happy with the stuff I created for Land Of Nod for the most part, it was fun to give stuff to friends and family.
I've never designed clothes. The closest thing I've done were a few t-shirt designs. There were some bootleg versions made of from the GoFish images so I made an 'official' version with image on the front and name on the back. There was a Liquid Liquid t-shirt design made in the UK. I once saw a women wearing a t-shirt of a NY'er cover I designed, she told me she bought it in Italy.
What are you working on now?
Right now I am up to my eyeballs with working on this animated film project. you can see the teaser/trailer here. This film project has taken over my life, but I was very happy to see someone connect the dots on my various endeavors.
Previous McGuire-related posts about Liquid Liquid and the books, and about the Land of Nod stuff.

Related links:
McGuire's books are out of print, but are still findable, and are awesome.
McGuire contributed to the second volume
of Art Spiegelman's great graphic artist anthology series,
Little Lit
. Steven Guarnaccia's project was a book, written with Steven Heller in 1994, called
Designing for Children: The Art of Graphic Design... Games, Television, Children's Books, Toys, Records, Magazines, Posters, Newspapers
, which I just grabbed.