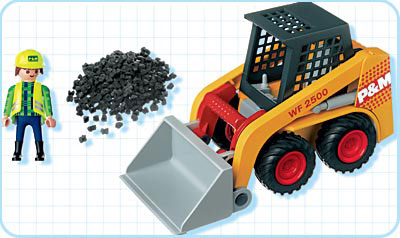 The kid only had one request of Santa this Christmas, but it was highly specific. And challenging: "A digger, and rocks, and sand." The digger would be easy enough, I thought. Even though I got priced out of that vintage Creative Playthings steam shovel, it was enough to get me fixated on a sweet, wooden machine [It seemed too soon for a full-fledged metal Tonka.]
But that just ended up throwing us off track. Nothing seemed quite right, and then there were the rocks. So on the day we left for France, I ran to the toy store the street, and was forced to choose between a giant non-Tonka something or other, or a Playmobil.
The Playmobil Mini Excavator, #4477, seemed great; not only was it small, it came with a doll [sic] and an actual pile of gravel [plastic and choke-hazardous for many, if not all kids, but still.]
But Playmobil, sheesh, she's still only two. Did I want to get locked into an all-encompassing universe of toys so early? [Though I gotta admit, the very existence of #3275 Portable Toilet Plus Crew was making it easier.]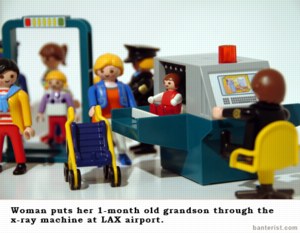 Now I come home to find that, quicker'n any Law & Order writer could ever dream of, Brian at Banterist has brought stories torn from today's headlines to life using Playmobil. And I don't doubt anymore. In fact, I'm going back for the porta-potty.
Starting in 2007, we should all recommit to raise our children well so they can reach age 4+, when they can know for themselves the hope of better, plasticky Playmobil world.
Playmobil Re-Enactments: Diddy Fur & X-Ray Grandma [banterist.com]
Finally, an answer to my question: What's up with this Playmobil Security Check-in?
Related: AJ did a couple of awesome Playmobil roundups last summer [thingamababy]