Thanks to an email last week, I had the opportunity to reflect on something I'm thankful for: not being in competition with Ikea for anything. DT reader Geoff [aka The Boston Twin Wrangler], who has been shopping for a kid-sized play table:
...something they can sit at and draw and do whatever it is that little kids will want to do at a table for the next couple of years. The standard height of most these tables is 18" to 20" and I'm wondering how long that will be good for. It's more a question of how long this table will be useful to my girls.

Just thought I'd share the options that I've found. I'm sure you've found others as well.
Table finds--his, mine, and soon, yours, I hope--are below: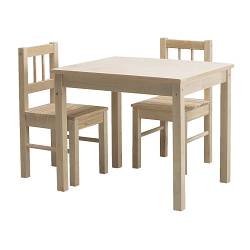 Most of our friends have the IKEA table, which apparently is really lightweight, and it slides all around on hardwood floors. Granted, I'm sure some rubber on each leg would solve that. But the price is certainly right. IKEA LÄTT table and 2 chairs $20 IKEA MINNEN table $40 plus $20 chairs IKEA KRITTER table $35 plus $20 chairs IKEA SVALA table and 2 chairs, $40

OneStepAhead has a neat looking one, with bold colors ($129) and it slides all together nicely. But I noticed when watching my 19 month olds play at a friend's table that they enter the chairs from the side-- obviously they don't know how to scooch themselves in. Which would make this setup a bit more difficult. Plus, you can't add any more chairs, so that's also not good.

An awesome wide variety of super cool and not inexpensive table/chair sets at sparkability. I saw the P'kolino Play Table (above, $989) at Magic Beans [it's not on their site, only in-store] and thought it looked fantastic. The Ooba Play Table ($350) also looks particularly nice. The playfulness of the Color BB2 Set ($420) is also nice. And the Svan set ($199 with three chairs and a stool) looks like a high quality version of the Ikea stuff, which makes sense, both being Swedish and all. I also particularly like the OFFI Snap table $129 and chair $79. It has a kid sensibility and is not outrageously priced.
The kid has an
Ikea Lack side table
and a
handmade chair from granddad
, the total cost of which is probably $1,000,012.99. Like a lot of these options, it's small, really a different use/experience than something with a big play surface like the P'kolino or the great
Argington Fundy play table ($399)
, or the
ducduc PJ
, both of which have massive storage built-in, too.
Another direction to look at is the Zid Zid Marrakech table ($279, on sale at olliebollen), which is even lower, hand-painted by Moroccan artisans, and comes with embroidered floor cushions instead of chairs. They're not on sale, but Design Public has other design and cushion options, too.
There's a whole lot more out there, of course, which was not really the case just a couple of years ago when the kid arrived. That's when my own heart was set on finding an impossible-to-find classic, Nanna Ditzel's Trissen Toadstool table & stools. Now, as it turns out, those badboys are on sale, 40% off, at DWR, with free shipping ($198 for the table, $118/ea for stools). It feels like we've come full circle. No pun intended, I swear.