The last few weeks as we've been ironing out the details and the concept, I've had a single, anxious doubt running through my brain: "But what if no one really disastrously famous has a baby next spring? Who'd care about a celebrity parenting advice book then?"
And even as I dusted off my most hilarious Debra Messing breastfeeding jokes, [punchline: "Golden Globes!" Am I right?? I slay me sometimes.] I had to face facts: this means six months of my life spent obsessing over Tori Freakin' Spelling's gift baskets, and there's no way to get that back, no matter how illustrious the publisher or how gargantuan the advance.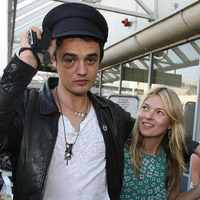 But still, it was a challenge I felt compelled to take on, and not just because I needed an outlet for all the celebrity parent-related news that just didn't fit here on Daddy Types. But celebrities are our culture's most important parenting resource, so really, I had to do it for the parents. No no, let me try that again. I had to do it for the children. Yep, for the children.
And so this morning, just as I struggled on the first, actual chapter in one window, the headline popped up in another, like sunlight breaking through the clouds, like spotlights piercing the smoke-filled club, like police car strobes at a drug bust, like paparazzi flashbulbs outside yet another courthouse:
EXCLUSIVE: KATE IS HAVING A BABY
And I knew it would be alright.
So basically, yeah, I'm doing a book about celebrity parents for Riverhead Books, a division of Penguin, and it should be out next Spring. It will be either hilarious, informative, or both, but we've elected not to find out until it's born. At the moment, I do know this: I'm sick every morning, I'm craving Diet Coke and Haagen-Daz Mayan Chocolate ice cream all the time, and my wife, not knowing what to do, is just helping out more around the house.