Though we were tantalizingly close last summer, we never did make it over to Sanrio Puroland, the giant indoor Hello Kitty theme park which sits [past the Babies R Us, past the Costco...] on the western outskirts of Tokyo. It seems like the kind of too-surreal-to-pass-up freakshow of Helly Kitty mania, and [possibly? who knows?] well worth a visit, as long as you have an extra day to spare in Japan, that is.
Anyway, I'd blocked it out of my mind until I saw a photo of a nearby Sanrio distribution center, which I immediately recognized from our Costco-Babies R Us run. Whatever: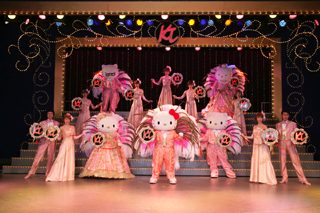 Long story short: there is an all-Hello Kitty version of "The Nutcracker," which is the kid's second favorite book these days [after the Argington catalogue]. She's already talking about seeing the ballet--and even dancing in it someday. [And here I thought the admissions process for pre-school was hairy.]
I don't know how she'd handle Kitty as Clara, but the confluence of these overwhelming forces is like the little girl world equivalent of Alien vs. Predator or Freddie vs Jason. I expect we'll be making that Puroland schlep someday.
Sanrio Puroland is in Tama, about an hour trainride west of Tokyo. 3-4,000 yen, kids under 4 are free[puroland.co.jp]