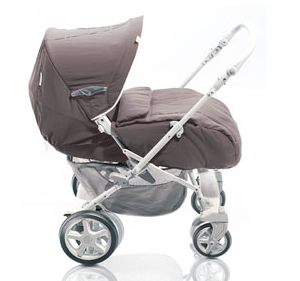 The connection between UK megababystore Mamas & Papas and Peg Perego go way back; it's an Italian family thing, capisce? M&P sells Pegs in the UK under its own brand umbrella; traditional rigs like the Pliko P3 Pramette are particularly popular. But Peg Perego's apparently feeling the Bugaboo heat, at least in Britain.
The new M&P Skoot is a Peg Perego Bugaboo-stalker, basically a Pramette on a redesigned, sportier chassis with enough similarities and key functions to raise a Dutch eyebrow or two. And yet the tubular metal construction and more pram-like seat/bassinet give the Skoot a more hybrid/transitional feel.
The real standout feature is probably the white powder-coated metal frame, usually a feature on disposable umbrella strollers, now redeployed on a decidedly upscale rig. If only Bugaboo hadn't been the first with their all-white, oddball limited edition Bugaboo By, the Skoot could stake a real claim to kickstarting a design trend.
Of course, DT reader Becster's right on in her wish for a white-fabric-on-white Skoot, if only to re-enact a good vs. evil stroller showdown against the carbon fiber & black leather Maclaren. At only £350, it at least has the Bugaboo beat on price, by £150.
If anyone's tested (or bought) a Skoot after comparing it to the Pliko [or the Bug itself], definitely chime in with your experience. And let us know how you keep that bad boy all white and purty.
Skoot Pushchair from Mamas & Papas, £350 [mamasandpapas.co.uk]