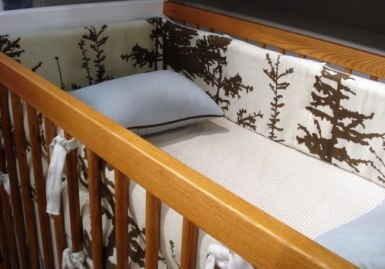 I confess, if you're one of those people who thrill to the sight of fine crib linens, Daddy Types has been letting you down. I could promise you I'll change, that I'll be better, but then I'd only break your heart. Again. And I don't want to do that, baby.
So if you need to leave me, I'll understand. Which is why I brung you this link to you. Cuz Grace at design*sponge went to the NY Int'l Gift Fair and brought home some pictures of Dwell Baby's purty new western-style crib sets, which includes silhouettes of June Carter Cash, or so they say.
For my money--and because they're linen, it'll take all my money and most of yours, plus what your mama left you, all that and I still might have to sell my horse--I think the crib set with the trees on it would be mighty nice. But none of it's on the Dwell site yet, so why don't you just wipe them tears away and go into the kitchen and get me a beer?
Dwell Baby crib set NYIGF preview [scroll down, down, down, design*sponge]