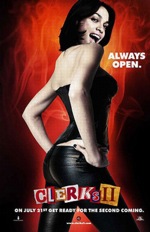 Now I'm as big a Kevin Smith fan as the next guy. Bigger, even. In the euphoric early days of fatherhood and dadblogging, I called him a "Daddy Types Posterdad." But that was before I actually saw Jersey Girl, which, let's face it, was the cinematic equivalent of flying to Europe with one pair of pants, and then having your lap baby execute a simultaneous puke and diaper blowout during takeoff.
With Clerks II set to debut this summer, NY Times film critic Caryn James writes a love letter to Smith, who also owns a comic book store in New Jersey. It includes this aside about Smith's posterdad-ness:
Their daughter is named Harley Quinn (also the name of a harlequin-costumed villain from the Batman comics), so you have to hope she has inherited a sense of humor. (Mr. Smith was ahead of his time in oddball baby naming, though, beating the Apple-Suri-Shiloh phase by years.)
Now, in his defense, the obscurity of the Batman reference makes Harley Quinn more stealth than oddball. But
without
the superhero connection, it treads dangerously close to the good Reverend Snow's misguided punnery when he named his daughter Christmas. And we all know how
that
turned out.
Don't even get me started on Kal-el Coppola Cage...
For Kevin Smith, the View From the Convenience Store Is Still Askew [nyt]
Previously: Jersey Girl mentions on Daddy Types
[update: Hmm. I'm a Marvel guy, so I had to look it up. But the way I see it, naming your kid Harley Quinn strikes me as only slightly less high school fantasy-skeevy than naming her Emma Frost.]