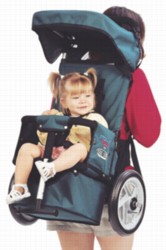 Seems like the bike people have always been at the head of the line when it comes to baby transport. One of the earliest jogging strollers, B.O.B., was developed by cyclists, along with bike trailers for kids, for example.
Well, Kool Stop has been around since 1977, and it seems like another cyclist/inventor-driven outfit. Designs feature a lot of tubular aluminum and not a lot of elaborate custom-cast or custom-machined parts.
One of Kool Stop's most interesting products is the Stroller Pack. The company promises it "quickly converts between a stroller and a backpack," but in reality, it's a stroller you wear on your back. There's a permanent footrest/kickstand for the kid, an optional rain/weather cover, and a canopy, features which can be found on backpack carriers from the likes of Kelty. So the key advantage is the wheelability. And the stowability: the Stroller Pack fits into an airline overhead bin [after you take the kid out and break it down, of course.] Handy for travel that involves a kid but not a car seat.
But ultimately, if feels like whatever early mover advantages the Stroller Pack, the design hasn't evolved enough to keep up with recent competitive designs in its own category. The Phil & Ted's Smart Buggy is not a backpack, but it is a two-wheeled stroller that seems more purpose-built for urban transport. Meanwhile, the Weber GoGo Trekking seems generations ahead of both.
But maybe these other options are too obscure, except to a stroller-headed freak [*cough*], and the Stroller Pack is a plenty viable option. Any word of experience from the backpacking/cycling cohort is welcome.
The Kool Stop Stroller Pack is available in several colors: green, with some purple accents and black trim. [koolstop.com]
It's $189 at Traveling Tikes [travelingtikes.com]