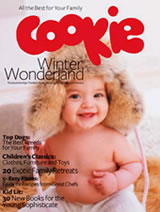 ACK! THE BABY OR THE FURS?
Don't choose, now keep both!
10 QUICK CLEANING TIPS
According to a Conde Nast source who's no doubt already nursing several eating disorders of her own, when the editors showed the debut issue of the buy-your-kid's-way-to-coolness magazine, Cookie to the big man, S.I. Newhouse, his comment was as clear as it was predictable: "I think that baby's too fat."
Check out the full email leak at Gawker. And put down that Cookie.
Subscribe to Cookie, but only if you don't skew their demo or drag down their HHI, please. I'm sure you understand.