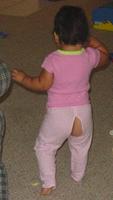 And all this time, I had it backwards. The Fulani tribe of Mali has a saying: "You're lucky if you've got someone who will shit on you."
Lucky, perhaps, but not as well-versed as you should be in the art of elimination communication. That's the annoyingly delicate name given by western advocates of traditional diaper-less methods for dealing with an infant's poo and pee. It's still popular in Africa, China and other parts of Asia, wherever the Diaper Industrial Complex hasn't managed to enlighten the simple-minded natives about their hopelessly backward parenting superstitions.
As numerous websites--and now the Boston Globe--attest, EC does best when it's started early and when it's integrated with Attachment Parenting. It involves closely reading your kid's actions and expressions and getting very familiar with their input-output routines, to the point that you're able to know in advance when the kid's gonna blow, and you can hustle him to a toilet [Or, sub-optimally, to a sink. Or to the curb. Or behind a tree. Or if you're at the park--oh, forget it. One parent sees you dangling your kid's ass over the grass, they'll all be talking about it behind your back, so why strain yourself?] Training your kid to recognize these sphincter-related signs himself is the next step, and it helps move them along to ESS (Elimination Self-Sufficiency? I just made that up) much sooner.
Of course, the money you save on diapers, you'll spend on dry cleaning. One of the founders of DiaperFreeBaby tries to spin it in the Globe like this: "It's not all about catching it. It's more about communicating with your baby." [Translation: you're not gonna catch it all, but that's something any Fulani could've told you.]
But back to the Diaper Industrial Complex for a minute. In arguing for delaying potty training until whenever the kid feels like it, our own favorite guru, Dr Terry Brazelton, makes this gratuitous Old White Man slam about EC: "It's a regression to an earlier stage in our civilization. I don't see it as progression. It seems like an unnecessary hovering of a parent over a child. I think there are more productive ways to interact with a child -- like play." And now I'm forced to reconcile these two opposing notions of parenting--Brazelton-sanctioned, diaper-enabled free range, and Aka Pygmy-style bonding--and I don't know what to do. Hold that thought; I gotta take a leak.
Aah.
Look Ma, No Diapers! [boston.com, via DT reader Todd]
Check out DiaperFreeBaby.org, Natural Wisdom [enough with the names, already] or the EC Yahoo! Group [warning: lots of mail, so opt out]. Keith at Blogging Baby started EC [so far, so-so].
Blow your diaper money at The EC Store [theecstore.com], but save enough for these sweet crotchless pants [above], homemade by a WAHM, no less.
Previously: Not for all the pee in China