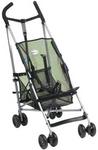 Wow, the Maclaren Volo, the spare, lightweight, mesh folding stroller we've almost bought a dozen times, is on sale at buybuybaby.com for $79.99! That's $20 off! Let's see, with $15.00 for ground shipping, that's a whole $5 less than buying it in the store, and you only have to wait 7-10 days!
God bless ye merry elves of the new economy.
What's that, carbon, the color you wanted anyway, is $69.99? OK, I'll reel my sarcasm in halfway. But I think I'm still holding out for a Quinny Zapp.