We hated almost all the nursery furniture we saw. Why isn't there a cool industrial-style, crib or changing table or dresser, we thought? Even the bassinet-on-wheels they showed us on the hospital tour would be cooler than the tole-painted schlock.
Then one day at work, my wife realized the steel lab carts they used to move satellite equipment around (she works at NASA) might make a great changing table. Things we took into consideration, besides coolness: decent work height (between 32"-35"), child safety (watch for sharp edges and corners, exposed bolts), and compatibility with some kind of standard changing pad (including enough of a lip around the top shelf to hold the pad in place).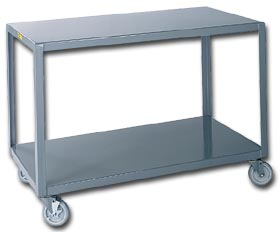 A mobile steel (changing) table from Motion Savers
Motion Savers sells several types of heavy-duty, welded tables and steel carts, including a 35" high deck cart, the tallest I found. They cost from between $172 and $300, plus shipping. Many of these could work, but they're bigger than we wanted.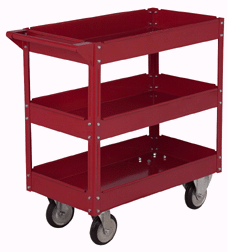 Then we found a 16x30" steel service cart at Harbor Freight, 33" high, two shelves below, and painted bright red. (It's also available with a drawer.) We bought two. Cost: $49.99, plus $5 shipping (that's not a typo).
We added (swallow-proof) safety caps on the inward-facing bolt ends, but we left the heads exposed for now. The smaller, 2-sided Mini Contoured Changing Pad from Colgate [16" x 30", two inches shorter than most of the standard issue pads] fits right inside the top tray. One industrial-strength tip: plan a few well-ventilated days for the wheel bearings' petroleum smell to dissipate.