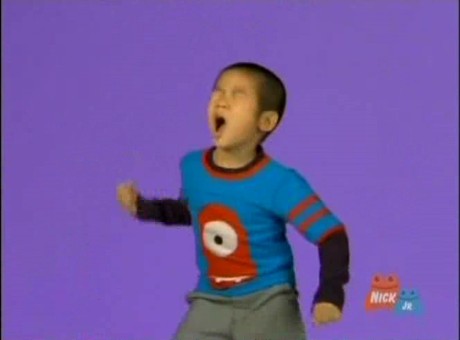 I've been looking for a way to honor the awesomest member so far in the Yo Gabba Gabba! Dance Club ["My name is Nathaniel! I like to dance!"], and John gave me the perfect idea in the My name is OJ! I like to steal! post.
So fill in the blanks in the comments with your own "My name is [someone]! I like to [something]!" idea. Tuesday morning, Oct. 2, [update] Thursday night one entrant will be selected at random from the valid email addresses in the comments to win...something Yo Gabba Gabba-ish, I don't know what yet, but it'll probably be one-of-a-kind/homemade, since the toys aren't out yet, and anyway, they're like $125.[update: whoa, it's an awesome kid's shirt, or it will be. I'll post pics. [note: email addresses in comments aren't published, and they won't be used for anything besides notifying the winner of the contest.]
Try to keep it safe for kids who know how to read, I guess [which means if it's sketchy, just make sure it's over their heads]. Multiple ideas are welcome, but each person only gets one drawing entry. Have fun!
[Oh yeah, and Nathaniel rocks out at the beginning of Episode 6, Happy, right after the slimy worm babysitting thing. Seriously, does that kid have an agent?]