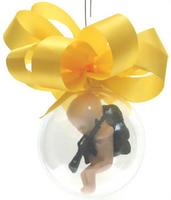 From MissPoppy.com, an online store for "spending your TRUE Christian dollars, where even your money is saved!" comes the Unborn Baby Ornament - US Troop Model:
What if the fetus you were going to abort would grow up to be a soldier bringing democracy to a godless dictatorship?

Plastic replica of an 11-12 week old fetus, 3" long, holding a firearm in its precious little hand, with an assortment of other military paraphernalia, encased in a translucent plastic ornament, with a patriotic yellow ribbon on top. Includes a metal ornament hanger. If only a womb were this safe, attractive and reasonably priced!

...

Also available in a "Brown" model.
I just came back from church, and I
still
got nothin' else on this one.
Unborn Baby Ornament - US Troop Model, in White or "Brown," $14.95 each. [misspoppy.com, via matt]